Bruxism & Sleep Apnea Treatment in Jupiter
Learn the Facts from Dr. Mogell
One of the most common problems people with sleep apnea have, in addition to chronic exhaustion and high blood pressure, is bruxism. What is bruxism? It's a condition where a person unconsciously clenches their jaw and grinds their teeth while they sleep. Over time, this can wear the teeth down flat, cause them to become more sensitive, and eventually…break! To help patients dealing with both of these issues, Dr. Kenneth Mogell is able to provide a singular solution: the Respire Pink oral appliance from Whole You. Now, a patient can get bruxism and sleep apnea treatment in Jupiter without having to visit different doctors!
The Connection Between Bruxism and Sleep Apnea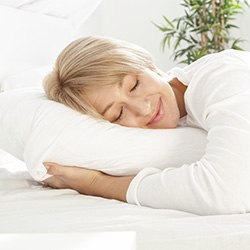 You can learn all about the causes of sleep apnea on this page, but what causes bruxism? According to the National Sleep Foundation, in addition to stress and misaligned teeth, sleep apnea is also one of the biggest risk factors when it comes to bruxism. It is estimated that nearly 25% of people with obstructive sleep apnea (OSA) also have bruxism, with the majority of them being men.
Experts believe that the two may be connected because their causes somewhat overlap. For example, stress can cause a person to grind their teeth while they sleep, but it can also cause them to gain weight, which is one of the biggest contributors to sleep apnea.
The Respire Pink from Whole You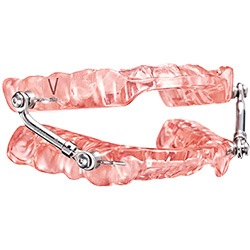 Fortunately, our practice is able to address both problems simultaneously with just one oral appliance. The Restore Pink is ergonomically designed and can be fully customized to fit easily into any patient's mouth. Not only does its telescopic hardware help keep the airway open to prevent sleep apnea symptoms, but it also provides a protective barrier between the teeth to prevent them from grinding together.
Respire Pink's unique design allows the jaw to retain its full range of motion, including lateral movement, or side to side. This means patients are able to move their mouths just like they normally would while wearing it. Patients are also able to speak clearly and drink with Respire Pink, enabling it to slip easily into any nighttime routine.
Because the appliance is both comfortable and effective, there is a higher likelihood of patient compliance, meaning a person will benefit from consistent sleep apnea/bruxism treatment night after night. In the end, it can help protect both a person's sleep as well as their smile.
Is Respire Pink Right for You?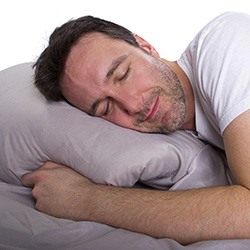 If you are experiencing either the symptoms of sleep apnea or bruxism, your first step to getting the help you need is to contact Florida Dental Sleep Disorders. After an exam, if we believe that you may be at risk for sleep apnea, we will recommend that you undergo sleep testing in Jupiter to get a proper diagnosis. From there, Dr. Mogell can work with your sleep doctor to determine if the Respire Pink appliance is the best treatment for you.
To learn more about bruxism, sleep apnea, and how the Respire Pink oral appliance can help you overcome both, contact us today.