Meet Your Melbourne Sleep Dentist
Dr. Kenneth Mogell, DMD, DABDSM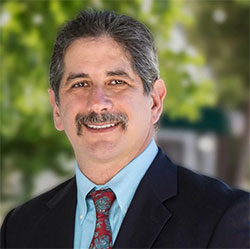 Dr. Kenneth Mogell spent the first part of his life in Detroit, but he completed high school in Miami Beach and went on to earn a degree in nursing from Florida State University. Then, he began attending the University of Florida College of Dentistry. He completed his Doctor of Medical Dentistry degree in 1984, and he started practicing dentistry in our area in 1985.
Dr. Mogell has completed extensive training in neuromuscular dentistry, and he has years of experience with that as his focus. He has been helping patients from across South Florida to cope with the pain and inconvenience of jaw joint disorders for over two decades. Serving patients who suffer from obstructive sleep apnea came naturally to him after he embarked on his neuromuscular practice. His unique background makes him especially qualified to serve as a sleep dentist in Melbourne. He handles snoring and obstructive sleep apnea (OSA) with effective, comfortable, and totally non-surgical oral sleep appliance therapy.
Dr. Mogell in the Press
Mogell, K. A. (2016, September 9). Mandibular Advancement Devices Lower Apnea-Hypopnea Index at All Obstructive Sleep Apnea Severity Levels. Retrieved from http://www.sleepreviewmag.com/2016/09/mads-lower-ahi-all-levels/
Dr. Mogell's Professional Memberships and Accomplishments

Diplomate of the American Board of Dental Sleep Medicine
As a Diplomate of the American Board of Dental Sleep Medicine (DABDSM), Dr. Mogell is one of only a handful of dentists who have met extremely rigorous experiential and educational standards for dental sleep medicine. He has an in-depth knowledge of how to treat OSA using custom-made oral sleep appliances. He has the notable distinction of being the only DABDSM serving patients in Indian River, Palm Beach, Martin, Brevard, and St. Lucie counties.

AMERICAN ACADEMY OF DENTAL SLEEP MEDICINE
The American Academy of Dental Sleep Medicine (AADSM) is a professional organization that focuses on research and the clinical use of upper airway surgery, in addition to oral sleep appliances, to address sleep-related breathing disorders. It also provides resources and training to those who work with patients from day to day.

AMERICAN ACADEMY OF SLEEP MEDICINE
Since it was first established in 1975, the American Academy of Sleep Medicine (AASM) has remained focused on studying and treating various sleep disorders, such as obstructive sleep apnea, narcolepsy, and insomnia. The AASM accomplishes its ends by encouraging excellence in all facets of sleep medicine.

AMERICAN DENTAL ASSOCIATION
Since it first came onto the scene in 1859, the American Dental Association (ADA) has become widely known for its support of scientific research, commitment to promoting ethics among dental professionals, and providing dentists and patients with accurate information on dental care and oral health. It is the largest and oldest dental society of its kind; its membership exceeds 157,000 dentists.

FLORIDA DENTAL ASSOCIATION
Like the ADA, the Florida Dental Association offers services to dentists and the public. Primary among those services is educating dentists and Florida residents on the latest news in dentistry and oral health. This organization is also quite concerned with promoting ethical standards of practice among dental professionals and encouraging them to pursue ongoing education.
Beyond the Dental Office
Dr. Mogell was a student at both Florida State University and University of Florida. However, his heart and loyalty remain with the Seminoles. When he is not working as a sleep dentist in Melbourne, he tries to visit Tallahassee at least once every autumn to cheer on his favorite team.